Final day, 2nd of Fogwater, 2293
Server News
Server Policy Updates, Announcements, & Changes
On-Going Server Facets
1.13 (Aquatic) update is still in progress! Receive updates as staff work to get us to 1.13 release [x]
Full region refunds are still open. Did you invest in a region that you now wish to cash out? Just getting tired of the ol' joint? Get a full refund now! [x]
Head update n°17 came out early August. The heads are themed around harvest, and the spirit of the upcoming Autumn. Check them out here: [x]
Events
Campaign Events
The Forlorn campaign is still in action!

Keep an eye on future events and developments, here-- [x

]
Player Events
W/C of the Month
DM does karaoke, offering a playful rendition of "Immigrant Song" for players during an event.
Recipe of the Month
Paper Lantern
Paper, red wool, and torch. Festive!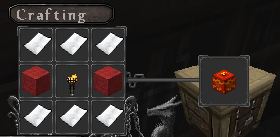 Rule of the Month
Recruiting
No recruiting in the OOC in-game chat for players to join your clan, guild, village, town, city or other organization. We have forums for such recruitment, each with their own rules and regulations. You may only mention your town if a player specifically asks for a town to join in-game!
Riddle of the Month
New Section
For the next few issues, we will demo this new section of the Newsletter and how people like it. There will be a riddle posted -- if you think you know the answer PM
Squidziod
-- users who get it right will be featured in the following issue of the Newsletter along with the answer and a new riddle.
This month's riddle is a bit of a throwback: "The softest cradle has a hundred thousand barbs." --Tell me what's being described!
Future of the Newsletter
Future Issues of the Newsletter, and Changes to the Format
It has been a little over a year since the last Newsletter was published--staff projects relating to campaign and lore development put some efforts on hiatus. It is our goal to continue the Hollowworld Newsletter, issuing it at the beginning of each month, though the currant format (which is leftover from the last series of Newsletters issued) may be subject to change. One of such changes is the "riddle of the month" which is above, and the inclusion of player written articles, which is found below.
What will we accept?
Anything that is Forum appropriate but here are a few examples.
Publish an IC story? Can do so. However please keep length in mind here. If its too long it may not get featured. Also if it is already featured on the forums in the Tales of Altera section, likelihood of it being shown is small.
Roleplay/Writing Tips? Everyone on the server even our best writers can benefit from these sorts of things.
Advertise your City, Town or organization? Write a small piece advertising it and we will publish it for you.
Useful Basement Threads- Cooking Tips, Movie, TV shows, and or game reviews could also be published
Want to enter something for next month's Newsletter? PM
Squidziod
QnA - [Will be expanded as/if we receive questions]
What if I'm not that great of a writer but I can make a video? We will publish it so long as your video doesn't break forum rules.
What about Art submissions? A limited amount of art may be advertised as well. If one person is highlighted one issue they likely won't be highlighted the next issue so feel free to continue submitting art each cycle.
Last edited: