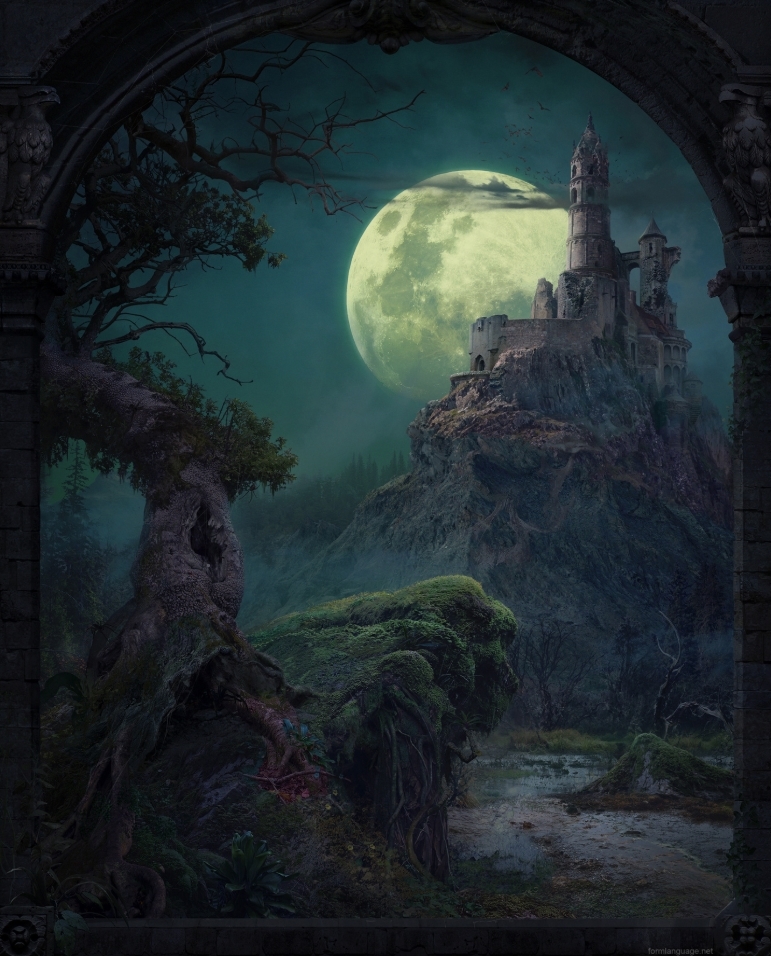 A month since the full moon rose blood red, people wait with bated breath as the waxing moon rises again and again growing fuller and fuller until... one night a perfect, beautiful full moon rises over a cloudless Altera, and people begin to realise that what nothing new will come to pass, and that what has been given shall not be taken away any time soon....

​
[The Vyre]
A Vyre is a sort of transformation that is not limited to any particular race or gender. It is an individual who continues to feed on sentient blood in order to reap the benefits it provides, or simply to survive.
The process of becoming a Vyre is one where an individual is initially infected through the sharing of blood with an existing Vyre. This is either by consuming it, or it being mixed through open wounds, or some method in which the blood of a Vyre is introduced to the bloodstream, even if it is a low quantity. (In rare cases, a Curse can be directly placed.)

For the first 24 hours after being infected, the individual grows gradually more hungry and finds normal sources of sustenance sicken them, though raw meat(or, flesh) or blood (either human or animal) sate it. Blood itself seems to strangely lose all sense of taboo that it may formerly have held, whether a phobia or otherwise. The blood tastes good. They are also innately drawn to the moon and actively avoid direct sunlight, and dreams becomes feverish and peculiar.
Should they avoid consuming blood of a sentient creature in this 24 hour period, the sickness passes, and will not continue onward. This is a difficult task for many, but it is not impossible.
For those who actively consume it however, unable to resist the desire, they find themselves strangely drawn to any place protected from any light, even being known to effectively bury themselves, and effectively die, no longer breathing or showing signs of life. They will try to find somewhere they cannot be found, or disturbed.
Note: The 24 hour period is IC and OOC, but this time can be dramatically cut short - The process of wanting to hide away out of sight begins within 10-20 minutes after feeding on sentient blood, and so there may be very little waiting time.

On the third day(can be one day OOC), they awaken from this temporary death under the light of the moon, and they set out into the night ravenous. They find they grow stronger in the night and more lethargic during the day, along with several other qualities…

Note: Blessed characters of several Gods find themselves innately aware of the consequences should they drink blood in the 24 hour period of infection. If they continue regardless, they may find they are effectively disowned by their God, with great disapproval. They do however, find it an easier time to avoid the temptation. (Valiant, Ignis, Grey Lady, Korog, Shalherana. Sallana.)
Note #2: Characters must be 16+.
Please also see the FAQ for more details, found here!
[Vyre FAQ]
​
[Sires, and Dilution of Blood]
A sire is the one who changed an individual into a Vyre in the first place, the original sharer of the blood consumed to begin the process. The progenitor is the first vyre in a bloodline to sire new vyres, and should they die, the first vyre they sired are then treated as the progenitor. A vyre will find they have a sort of compulsion to not directly harm their own Sire, even if they hate or dislike the individual. Should this Vyre spread the curse further and sire their own, the bond strengthens and they are even more compelled to not see their (grand)sire come to harm. This propagates up and up the chain, the compulsion growing stronger the closer one gets to the progenitor of the chain of Sires.

Vyres descended of the same bloodline take on unique traits and quirks. See the second post on this thread for more information! Your 'sire' should also inform you of which bloodline you are if you do not know.
Vyres on the same branch find that the progeny of their 'brother' or 'sister' are not entirely capable of harming them, either. It is half as effective - They can hurt them but killing them seems to be a concept they cannot quite grasp.
[Generation Abilities]
Once a Vyre rests at the top of a longer chain of Vyres, they gain more strengths and yet greater weaknesses. This includes if you have sires above you, but still have a chain of x amount or more beneath you. [Chains are from you, to another, and then they turn someone else and so on. Chains are not based on turning three people yourself.]



Chain of Three
(S - V, V, V)
Vyres at this level get blisters on exposed skin in direct sunlight if they are in it for five minutes or more, and feel sick and disorientated. They have a repulsion to food of any kind, especially those with strong smells as their sense of smell seems heightened.
Staunch: The blood of the individual takes on regeneration properties, able to staunch and repair wounds when mingled with the blood of another of the same bloodline. It is

limited to wounds up to one inch deep and three across, and is only to be used on surface wounds. It does not heal internal damage beyond a certain depth. Additionally, any injuries sustained on themselves that fit into the same limitation will heal within one night at a cost of making them somewhat more hungry.
Locate I: They are able to

locate those below them in the chain of the same bloodline to the accuracy of pinpointing the town they are located in. The requirement to be able to do so is one minute of focus, and the name of the individual to be quietly whispered for the duration.
Chain of Five:
(S - V, V, V, V, V)
Vyres at this level should no longer be out in direct sunlight, for their skin blisters terribly within a minute of being exposed, and their eyes are exceptionally sensitive and prone to moments of blindness. They feel very tired in the day, whether it is overcast or not.
Immortality:
If the Vyre is staked, they may simply remain that way for as long as it takes for the stake to be removed, the body never decaying. Should this be put into use, make a conversation with me with all the details of the 'death' so I can explain and go through it without spoiling it.
Locate II: They are able to locate those below them in the chain of the same bloodline to the accuracy of the building they're in.
Chain of Seven:
(S - V, V, V, V, V, V, V)
Vyres at this level may quite literally set on fire if they remain out in direct sunlight for more than five minutes. It is blinding, disorientating, and makes them feel cripplingly weak if they even attempt to walk in it.
Mistwalk
: Once per night they have the ability to form into mist and traverse at twice their usual speed providing they remain outdoors. They cannot enter buildings in this state or activate this ability within them, and will generally do this out of sight as transforming in and out of the mist form takes one minute OOC/IC.
Advanced Spider's Gift: They are able to cling to any surface as easily as gravity holds them to the ground normally, at any speed or state. However, if they are hit or experience some kind of sudden shock - such as the sudden physical trauma of, say, being pelted by rocks, arrows, or spells - the ability still fails.
Locate III: They can pinpoint the exact location of anyone below them in the chain of the same bloodline, to the very room they reside in, and where in that room they happen to be.
Chain of Nine:
(S - V, V, V, V, V, V, V, V, V)
Vyres at this level set alight instantly the moment direct sunlight touches them(at the point of contact), and are blinded if it is shone in their eyes. Attempting to exert oneself in the sunlight results in being incapacitated by sheer exhaustion. The Vyre is completely unable to enter the holy places of gods who are not Jishrim, Visage, or Skraag. This does not include shared holy places, such as cathedrals of all gods. They are also unable to enter private buildings without being invited in by someone who has already passed the threshold.
???: Unknown ability. TBA.
Locate IV: They are able to inherently sense the amount of people in their bloodline, from the moment they are turned.
[Death of a Vyre]
Death is not quite the same process.

It is somewhat common knowledge by this point that staking a Vyre forces them to make two choices. They may revive through the sisterhood, cured of the curse, or they may remain in death and wait until the stake is removed. If a Vyre dies without a stake, they will revive in the Sorrows, and be haunted and horrified for several days as they reform and now gain black scars with light blackened veins around the area where they were injured. This process takes three OOC days.
If a Vyre is killed and the body is destroyed, they will reform in the Sorrows as above but with are permanently more bloodthirsty and more violent in addition.
If a Vyre is revived and freed of the curse, and then falls back into being a Vyre, they will be more bloodthirsty, violent, and less patient than they were before regardless of it being a new bloodline or otherwise. No longer can players die and revive and re-vyre without consequence.
[Changes]
All Vyres after the 'awakening' begin to take on shifts in their appearance and appetites. In the day, they become pale and almost sickly in pallor, and physically feel drained and lethargic. They have no appetite, and tend to avoid direct sunlight as best they can. Upon the sun setting however, they find themselves energised and healthy, stronger and more attuned to the darkness.
Note: A lot of the Vyre changes are able to be determined by the player; they do and must change in some fashion but in some cases it's a lot more, or less, subtle.
(For those Earthspawn, Nakat, Greyling, or Makani, make a conversation with Elz/Squidziod to discuss the details.)
Eyes
There is a spectrum - Most Vyres find that their eyes are deep red in the night while only flecks remain in the day, but it is not uncommon for there to be no trace of the red in the day either. Additionally, some find a more blatant red takes their eyes in the night and day alike, making them a little more obvious. Some individuals take on a red sort of ring around the pupil, instead of flecks, too. This is up to the player.
Teeth
All the teeth of a Vyre become a little sharper, day or night, but the canines specifically. Some have found their canines are a little larger, some find there's not really much change overall, and some find all teeth are like canines instead, this is again up to the player. A peculiar trait is that all teeth of a Vyre will regrow if they are lost, though will regrow sharp and somewhat pointed.
Note: A rare oddity for some Vyres is the addition of a forked tongue.
Skin
Their skin is pale in the day, like a sickly shade, but again it sometimes hardly changes from their usual in the light of the moon. A tanned individual may find they don't change much beyond looking a little off in the daylight hours, but there will always be some kind of change to reflect the newfound weakness and sensitivity.
Strength
Vyres are weaker in the day, a lethargic version of themselves, while the night brings a newfound strength. This is not superhuman, but can vary depending on how they usually are. A lithe woman with little strength may find she can throw the punch of a strong man, but a man who already had the muscle behind him may find he's more capable of hitting like an Earthspawn. Be reasonable with it. Think like your character has the same strength as someone strong with a lot of adrenaline, but they're not going to cave in someone's breastplate with one punch.
Appetite
Normal food does not appeal, especially not in the day. Drinks are always fine, but raw meat and blood sources become very much their main diet when the sun falls. Eating 'normal' food has been known to make a Vyre feel particularly sick, enough to make them vomit, but has no long lasting effects.
They must be able to consume the blood of the sentient races. They can sustain themselves for days, perhaps weeks, off of the blood of animals. But, the longer they go without it, the more insanely driven by a lust for blood they become, until eventually they go mad with it and eventually succumb to their insanity and thirst and go on a rampage.
Note: Holy Water makes them feel like they're drinking liquid fire, and the mouth may blister. This is not wise. It burns the skin slightly much like it would a mage.
[Abilities]
Keen Senses
-Hearing seems to be more advanced, though in the initial 1-2 OOC weeks of becoming a Vyre, this ability can become excessively invasive and uncontrollable. Once they've gotten used to the change, they will have the hearing of a healthy Elven individual, able to hear whispers in the same room as them. For Elves, it is simply more clear for them, to be any better than they are now would risk damaging their ears instead. (Though people are not compelled to tell you what they're saying in whisper chat, only if they wish. Same for Elves.)
-Eyesight is good in the dark, as if they are ever guided by the light of a torch, or a candle in the darkest of conditions. They are however significantly more sensitive in the daylight, and to walk in broad daylight is almost disorientating with how bright it is.
-Touch is only moderately more sensitive in the twilight hours, some known to take to touching various textures that seem to have more to them than they would've otherwise. The downside is that during the day, they seem to itch occasionally, like their skin is crawling, itching.
-Sense of smell is no different aside from being able to pick up the smell of mostly fresh blood, within a day old at most, and within a 5ish block radius.
Resilience
During the night, Vyres are not as susceptible to injury. Their blood clots faster, their bones seem less prone to breaking. If they have recently fed, even their sense of pain seems dulled and replaced with the excitement of a fresh meal. But during the day, those very same injuries which could have been ignored under the light of the moon come back with a vengeance.
Note: It is not sufficient enough to overcome severe wounds or rapid blood loss, sustained from, for example, several deep knife wounds.
Enduring
Vyres age unnaturally slowly for their race, providing they continue to feed on a regular basis. Aging will resume should they stop, somehow, being a Vyre, but the age does not catch up to them. A Vyre can expect to age somewhere between a quarter to a third as slowly as the contemporaries of their race. As they grow older, they seem to age even slower.
Sense of Death
A Vyre is able to smell out death or are oddly drawn to it within 10-12 metres(blocks), making them rather capable at finding corpses even if well hidden. Sadly, they are also drawn to taking a body or bones if they're not directly risking themselves by doing so, and taking it to the Sorrows. It is a compulsion, and hard to resist, though they may wait for more opportune times in order to do so discreetly. A suggested roll with a DC of 14 is advised around corpses to resist this pull.
Spider's Gift
Additionally, A Vyre has the unnatural ability to walk on vertical and horizontal surfaces. They are able to do this at no great personal cost to themselves, but they do leave strange impressions on the surfaces they walked upon. Dark spots that leave peculiar foot and hand prints which are hard to wash off.
Note: They are only able to walk, carefully, and running or moving with haste on surfaces causes it to fail, and they fall. They need to be relatively calm to pull it off.
Last edited: