Just a basic nothing fancy profile for now. Will update and adjust later.
Updates will be in this color.
N
ame: Goes by Cassian. (Also known as Papa, Mister Cass, Cass, Pretty-Boy, Shitty Cashew, Cashew and "Mine")
A
ge: 54
R
ace: Silver Elf.
G
ender: Male.
S
exuality: Heterosexual.
R
elationship: Married
S
ocial
S
tatus: Nobody
O
ccupation: Ambassador - (Secretly and only known to few: The Dragon.)
~~~~~
A
ppearance
S
tuff~~~~~

Before the facial scar.
​
H
eight: 6'3
W
eight: 155
H
air: Long, luxurious, and gorgeous dark chocolate brown. Generally let down to hang past his shoulders.
E
yes: Piercing Silver.
H
ygiene: Stays as clean as possible to keep up appearances, never wanting to be too
dirty
.
S
kin: Naturally, impeccably, and flawlessly pale.
F
acial
F
eatures: He has a very beautiful appearance with slightly raised cheekbones, though he does have a scar just under his right eye. No facial hair.
P
hysical
B
uild: Very lean, but toned.
S
cars: Beyond the one blemish on his face (Touchy subject), none are seen. He tends to keep himself heavily covered.
P
osture: Straight back, carrying himself with a lofty arrogance.
F
eatures of
N
ote: His eyes which have flecks of silver in them. The scar on his face. His attire may also stand out from the norm for Silver Elves.
~~~~~=Clothing/Possessions/Items of Note:=~~~~~​
O
utfit:
*He wears a dark uniform with several pouches. It's made up various black leather and black chain armor pieces. The buckles and metals tend to be very polished. He also wears a dark grey silk front buckle short tabard to cover his torso armor along with a very fine black cloak.
*He is also seen wearing finer clothing when comfortable. Very debonair and dashing.
*He is also seen wearing a fancy little crown that he won from a dancing contest. Fancying himself some sort of dancing royalty.
​
J
ewelry:
*A silver ring on his middle finger on his right hand, a tiny blade centered on it, with a single spike on each side of the blade.
*A silver ring on his right index. Onyx stone, with a scaled design and four small claws holding the stone in place. The theme is dragon.
*A purple string bracelet from Aelyth Fuvur. He wears it constantly.
W
eaponry: (These Items can found on him depending his attire they may change.)
*He has two hidden matching Dirk (daggers) which he keeps clasped behind him on his back. They are hidden generally by the black cloak he wears at all times. The overall length is roughly
16 inches
, the blades being
11 inches
. They are tucked upright, so he has to reach behind and pull down to unsheathe them.
*Heavily Enchanted Falchion -"Sunshine" - Gifted to him by LeoFaren. The word Sunshine in elvish engraved on the blade. This is the Twin of the sword Darkstar given to Ayda. A Fire Opal resides in the pommel of this one. Unlike it's twin it is only slightly less powerful.
*Heavily Enchanted Steel Sword - "Faal Vahriin Vahrot" - Taken from Larike's still warm body.
*Heavily Enchanted Scimatar - Also taken from Larike's body.
*Enchanted Silver Dagger (Engraved.) - Another weapon looted from Larike's body.
*He has several throwing knives tucked along his right and left thighs within their respected leather sheath slots.
Dirks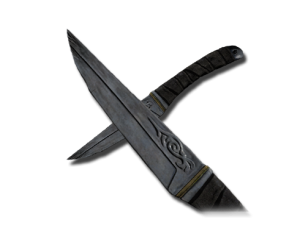 Throwing Knives.
​


~~~~~=Personality=~~~~~​
G
eneral
A
ttitude: Casual, laid back. He can appear very friendly while also being arrogant and haughty.
L
ikes:
*Find out.
D
islikes:
*Find out.
S
trengths:
*Very cunning and quick thinking. Can be cold and calculating. Brain power.
*Good with underhanded and dirty tricks.
*Agile, quick on his feet and fast.
*Is good at sneaking about and being unseen.
*Can read people and situations very well.
*Is fairly competent with daggers.
W
eaknesses:
*He isn't very strong physically.
*He has a bad temper he has to keep in check.
*Can be explosive when his anger becomes out of check letting down his guard, or becoming physically violent.
*Can be a real asshole sometimes, at the worst times to be one at that.
*Arrogance
*Is ignorant beyond knives and daggers in combat, likely to fumble with any other weapons.
F
ears:
*Losing those closest to him.
*Dying young.
* ¯\_(ツ)_/¯
V
alues:
*Those he considers family.
*His own life.
* ¯\_(ツ)_/¯
~~~~~=Health Stuff=~~~~~​
I
llnesses: Nodda
A
llergies: Nodda
I
njuries: Nodda
S
leeping: Normal
E
xercise: He tries daily
M
emory: Fairly great
~~~~~=Random Info=~~~~~​
E
ducation: Fairly Educated in science and politics along with being a scoundrel.
L
anguages: Elvish, Mok'yra, Common.
R
eligion: Openly interested in Silas. Doesn't seem too into the idea of "Gods", but tries to avoid coming off as a heretic. Though his true, unspoken, and untold alignment is to Visage.
G
eneral
I
ntelligence: Clever, interpersonal.
G
eneral
S
ociability: Tends to be very social when engaged. Always having either a smile or sinister appearing smirk on his face. This said, he does enjoy studying others in silence. Eavesdropping to learn what he can.
S
hort
T
erm
G
oals:
*¯\_(ツ)_/¯
L
ong
T
erm
G
oals:
*Become a better man.
*Improve his skills to better do his job, and protect those he loves.
*Be the best possible father figure for Laisa, Derek, Tania and Eva.
* ¯\_(ツ)_/¯
F
avorite
T
ypes of
F
ood: No real favorite. Whatever fills him up.
F
avorite
T
ypes of
D
rink: Water or Tea. He does occasionally partake in the Absinthe.
H
obbies/
P
astimes: Keeping his skills as sharp as his knives, reading, and occasionally throwing knives for fun. Sometimes purposefully being bad at knives in hopes of scamming someone out of Rads later.
Last edited: